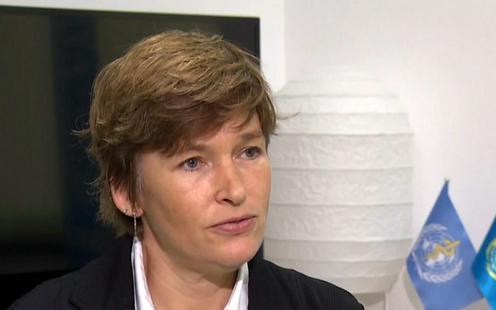 Caroline Clarinval. Still image from Khabar.kz
A team of experts from the World Health Organisation is to be sent to Kazakhstan to investigate the cause of the sharp rise in pneumonia cases in the country. The head of the organisation's Kazakhstan office, Dr. Caroline Clarinval made the announcement in an interview with the UN's in-house news service (in Russian).
Kazakhstan has seen a dramatic increase in both COVID-19 infections and severe pneumonia cases in recent weeks, the latter often presenting negative PCR test results for the coronavirus. Over 40,000 people were recently stated to be undergoing treatment for pneumonia around the country, 31,000 of them with negative COVID-19 test results. 415 patients were said to have died in the week ending on 5 July alone, more than the country's entire official coronavirus death toll to date. The anomalous situation in Kazakhstan (which is actually shared by neighbouring Kyrgyzstan) caused a global media storm last week when the Chinese embassy in the country published a warning about an "unknown pneumonia" with a "much higher" fatality rate than COVID-19. The embassy later reworded its statement following a denunciation by the Kazakh authorities of the story as "fake news".
"I think it's too soon to make any hurried conclusions. Yes, the number of pneumonia cases has increased since the start of June, and we have been asked to get to the bottom of the situation. The Ministry of Health is also busy doing the same. These reports attracted a lot of attention in the media, but it is our job to gather and analyse information before we come to any conclusions," Clarinval stated.
The WHO rep said that, for now, she can only repeat the words of WHO Health Emergencies Programme executive director Michael Ryan, who earlier stated that the pneumonia wave is most likely to be COVID-19 cases (that have "just not been diagnosed correctly," as Ryan put it). "Perhaps some of the patients sought medical help late and they have pneumonia symptoms but we are not yet able to detect the presence of the virus. We also need to look at the capabilities of local laboratories – we know that sometimes there can be what are known as "false negative" results. All this will be subject to evaluation. The WHO will also be sending a group of experts in the area of laboratory testing. There can be all kinds of reasons, but the most important thing is not to rush to conclusions, since we do not yet have all the information," Clarinval added.