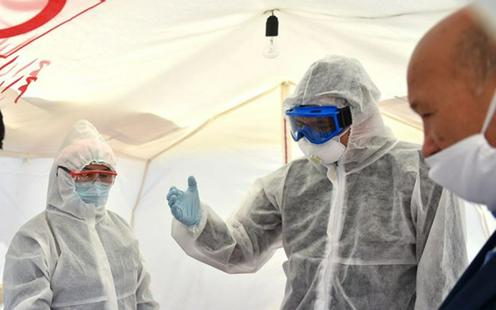 Medical workers in Kyrgyzstan. Photo from gov.kg
Due to contradictions in legislative acts passed during the current pandemic, compensation paid out to the families of medical workers who die from COVID-19 infections has effectively been lowered, the Medical Workers' Union of Kyrgyzstan has argued today in a letter to President Sooronbay Jeenbekov. The story has been covered by news outlet 24.kg (in Russian).
A government decree from 4 May sets out a one-time payment in the event of the death of a healthcare worker infected with COVID-19 of one million soms ($13,000). Later, at the end of June, the Kyrgyz parliament enacted amendments to the law "On the status of medical workers" stipulating that families of medical workers who die in the course of their duties during a state of emergency are entitled to compensation of no less than 20 times the average annual salary of the deceased. This point was taken from article 252 of the country's labour law code.
Union representatives point out that the government's May decree and the provision on 20 annual salaries contradict one another. As an example, they put forward a hypothetical average monthly wage of a medical worker of 5,000 soms ($65). 20 average annual salaries of such a worker would come to 1.2 million soms ($15,500). Yet the nominal average monthly wage in the Kyrgyz healthcare system in 2019 was reported to be 10,500 soms ($135).
The union has appealed for the legislative contradiction to be removed and for compensation to be paid according to provisions in the labour law code. The organisation also complains that compensation payments for infections and deaths from COVID-19 are being delayed and have called for an acceleration of promised payouts to ill medical workers and the families of the deceased.
Disputes over compensation payments to healthcare workers have become a contentious issue in both Kyrgyzstan and Kazakhstan, at the same time as the two countries are battling with a surge in both registered COVID-19 infections and "community-acquired pneumonia" cases currently not included in official coronavirus statistics. As covered more fully in another news item from today, some people are even arguing that the "games" being played with the countries' COVID-19 statistics may be closely related to reluctance to pay out vast amounts of compensation owed to health system employees. Both Kazakhstan and Kyrgyzstan have recently promised to start including pneumonia cases in their coronavirus statistics, but this has not happened yet in either case.
To date, Kyrgyzstan has reported fewer than 200 COVID-19 deaths. Since the start of July, however, dozens of pneumonia deaths per day have not been represented in the official data. 2,199 infections among medical workers have been recorded since the start of the pandemic. According to official data, six medics have passed away from the coronavirus. How many have died of pneumonia was not reported.
Note: On the day that this story was written, 17 July, Kyrgyzstan began including COVID-like pneumonia cases in its official coronavirus statistics. The official caseload thus immediately shot up to 23,783, with the death tally rising from less than 200 to 785.