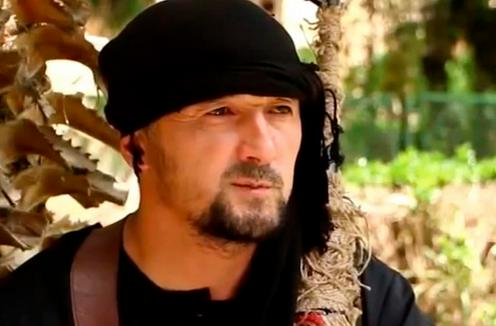 Gulmurod Halimov. Photo from rferl.org
Former Tajik special forces commander Gulmurod Halimov, widely known as "ISIS minister of war" (IS, a terrorist organisation banned in the Russian Federation and in Tajikistan) has been killed. The Tajik interior ministry has obtained proof of his death, interior minister Ramazon Rahimzoda told Sputnik Tajikistan (in Russian).
According to Rahimzoda, Halimov, who was also known under the pseudonym al-Tajiki, was killed during an air raid in Syria. Exactly when this occurred was not mentioned.
Reports of Halimov's death or injury have appeared in the media on several previous occasions, but each time they were refuted by IS supporters, who posted photos and videos of him on the internet. In April 2017, British newspaper The Times reported that al-Tajiki was killed by an airstrike in the west of the Iraqi city of Mosul. On that occasion the Tajik foreign ministry did not confirm reports of his death. In September of the same year, Russia's defence minister stated that Halimov had been killed in a Russian airstrike around the city of Dayr al-Zawr in Syria. In January 2019, a source in the Tajik security agencies told Fergana that the fugitive colonel was then thought to be in the region of Munjon in the Afghan province of Badakhshan.
In January 2020, Ramazon Rahimzoda said that it was then still not possible to confirm the death of the "ISIS war minister". "I can neither answer yes or no to this question, until I see the body myself," the Tajik interior minister stated at the time.
Halimov joined the Islamic State in April 2015. The Tajik government then charged him with treason, "participation in a criminal association" and "illegal participation in armed conflicts or military activity on the territory of a foreign state". In May that year he placed a video on the internet declaring his allegiance to ISIS, following which Interpol put him on an international wanted list at the Tajik authorities' request. In September 2015, Halimov was included in a list of 36 organisations and individuals linked to ISIS and subject to sanctions on the part of the US. In 2016, the US government announced a reward of $3 million for information on Halimov's whereabouts.