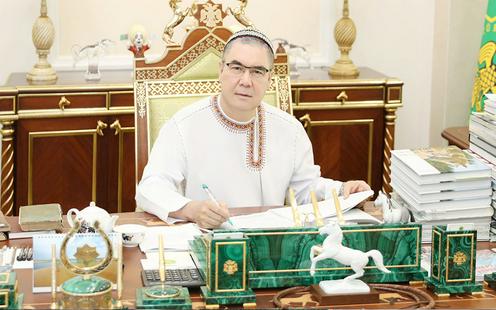 Berdimuhamedov in the clothes he presumably wears to ponder the depths of the human soul. Photo from tdh.gov.tm
Turkmen media have announced the imminent release of a new book by the president of Turkmenistan, Gurbanguly Berdimuhamedov, entitled The Spiritual World of the Turkmen People. According to state-run news site TDH, the new tome is devoted to the "good, centuries-old traditions of the Turkmen people and their national foundations".
The work is made up of twelve chapters, in which the author "describes in detail such concepts as the beauty of life, prosperity on earth, the eternity of things in existence, the importance of science and education in the development of society, the principles of a healthy lifestyle, diligence, hospitality, friendship and brotherhood, moral foundations and unity", TDH writes.
The relationship between man and nature is explained through the use of edifying examples taken from tales and legends. The book tells of the connection between Turkmen traditions and enduring universal human values. It is interspersed with proverbs, sayings and aphorisms, which have already been the subject for another of Berdimuhamedov's works – Source of Wisdom (2016).
Commencement of work on the book, which was to summarise the president's "deep thoughts on the historical experience of the Turkmen people" was announced by Turkmen media on 29 March. The book was completed during Berdimuhamedov's holiday, which began immediately after the arrival of a WHO mission to check on the status of the coronavirus in the country on 6 July. The president has now sent the book off for publishing, with its release planned to coincide with Turkmenistan's Independence Day celebrations on 27 September.
An electronic library of Berdimuhamedov's books has been created on the official website devoted to Turkmenistan's 25 years of neutrality. The site presents his works in 20 languages in 3D format, complete with audiovisual effects in the form of rustling pages. 52 tomes ostensibly written by the president have been digitalised in total, including all 11 volumes of his Medicinal Plants of Turkmenistan, the 11 volumes of his yearly collection of speeches To the New Heights of Progress (sic), as well as Worshipping Mother – Worshipping a Sacred Person, Turkmenistan is the Country of Prosperity and Progress, and the centrepiece of the current website A Horse – A Symbol of Faithfulness and Happiness (sic).
The English language translations, with their trademark Turkic/Russian chaotic use and omission of English definite and indefinite articles, have clearly not been done by a native speaker, so we advise turning to the Turkmen and Russian versions for a smoother reading experience if possible.