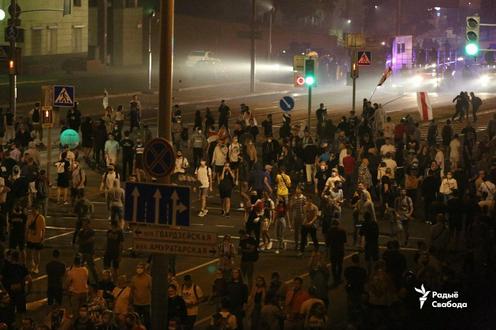 Street protests after the elections. Photo from the Telegram channel of Radio Liberty's Belarus service
The presidents of Kazakhstan, Kyrgyzstan, Tajikistan and Uzbekistan have congratulated Aleksandr Lukashenko on his victory in Belarus's presidential elections, even though the final results are yet to be officially declared. According to preliminary counts, current president Lukashenko gathered 80.1% of total votes, with his main opponent Svetlana Tikhanovskaya gaining just 10.1%.
In their congratulatory telegrams, each of the Central Asian leaders expressed the conviction that the election result in Belarus is evidence of the massive public support there for the course adopted by Lukashenko.
In line with this, the "Founder of Peace and National Unity, Leader of the Nation, President of Tajikistan, the respected Emomali Rahmon" (as the Tajik president's official title runs), called Lukashenko's victory "proof that the public recognises your vast contribution to the development and consolidation of the bases of sovereignty of the Belarusian state, and confirmation of the soundness of the far-sighted policy you have adopted on this path, aimed at steadily raising the standard of living of the country's citizens and improving the country's standing in the international arena".
Kazakh president Qasym-Zhomart Toqaev in turn expressed his certainty that "the results of the election, held amid a difficult political situation, demonstrate the popular support for the strategic course you have chosen, aimed at strengthening Belarusian sovereignty and independence".
Uzbek president Shavkat Mirziyoyev noted that the high electoral turnout and the results of the vote once again show the Belarusian public's great faith in Aleksandr Lukashenko, as well as its unity and total support for the continuation of effective reforms.
From Kyrgyzstan, President Sooronbay Jeenbekov wrote: "I am convinced that your extensive experience and professionalism will continue to promote the well-being of the Belarusian people and ensure a high level of political and economic development in the country."
The presidential election in Belarus took place on 9 August. Following the closure of polling stations, protestors took to the streets of Minsk, Brest, Baranovichi, and Vitebsk to contest the preliminary results announced by the country's Central Electoral Commission. That night, clashes took place between demonstrators and police in a number of cities around the country. More than 3,000 people were arrested during the protests. Dozens of people have been injured, but earlier reports that one man died appear to be unfounded.