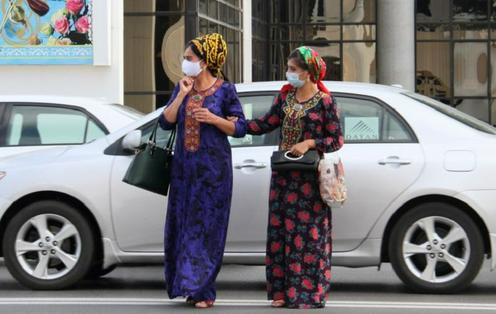 Ashgabat residents. Photo by Azatlyk
State employees in Ashgabat are being required to take tests for COVID-19 at local polyclinics, RFE/RL's Turkmen service Azatlyk has reported (in Russian).
According to Azatlyk, the order was conveyed to state agencies and organisations on the morning of 6 August. Those who fail to provide a certificate showing that they do not have the coronavirus will not be allowed in to work. At the same time, the outlet's sources in medical facilities state that they are not allowed to officially diagnose someone with COVID-19 in the event a test does come back positive. Doctors are instead required to communicate the results to the patient's workplace so that they can then send the employee in question to hospital.
The tests in polyclinics are not free – civil servants are having to pay 100 manats ($28.50) for them. Formally, Turkmenistan has mandatory health insurance, but almost all medical services turn out to be "not covered by the insurance". This is the case even for doctor's certificates for children returning to school after a period off sick.
Chronicles of Turkmenistan has meanwhile reported that polyclinic certificates are also being demanded from passengers wishing to take domestic flights. Bus and rail services in Turkmenistan, however, have been suspended, so air travel is currently the only way to move between regions.
Officially, the Turkmen authorities continue to maintain that Turkmenistan is one of a handful of countries yet to be touched by COVID-19. Independent media outlets, however, have been reporting on a surge of pneumonia cases and large numbers of deaths around the country. At the start of July, a much-delayed WHO mission to Turkmenistan refrained from openly questioning the government's official line, but urged the authorities to act "as if COVID-19 was circulating" in the country. Rather than explicitly focusing on the coronavirus, however, lockdown measures introduced since the WHO mission's arrival have been justified with reference to wind-borne dust carrying unspecified pathogens from abroad. At the end of last week, however, Turkmen president Gurbanguly Berdimuhamedov did apparently consent to independent WHO testing being carried out in the country.