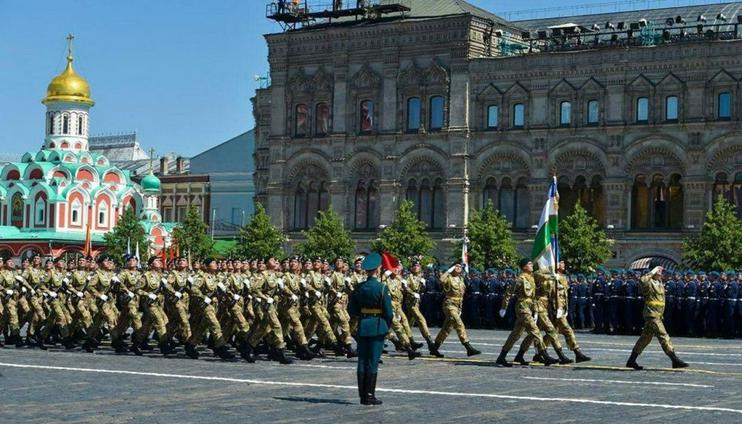 Uzbek soldiers at the Victory Day Parade . Photo from the Press Office of the President of Uzbekistan
This year's parade to mark the victory of the USSR in the Great Patriotic War was unusual for several reasons. It should, of course, have been held on 9 May, but the coronavirus occasioned a change of plans. Despite the fact that an end to the epidemic in Russia is still not in sight, the Russian authorities decided to press on with the revised date of 24 June for lavish celebrations of the 75th anniversary of the victory over fascism. The first such parade back in 1945 was held on 24 June, and Russian president Vladimir Putin had no intention of further pushing back the date.
This year's parade was also special because armies from other countries too participated in the event. Central Asian states here were no exception. All five of the region's governments sent troops to Moscow, even Turkmenistan. But it was only for Uzbekistan that this participation of the armed forces in Red Square marked a first. The delegations from Uzbekistan's neighbours already had prior experience of solemnly filing past stands full of local and foreign dignitaries live on Russian TV.
Representatives of Central Asian countries' armies marched one after the other in alphabetical order. Kazakhstan, Kyrgyzstan, and then, after delegations from several other states, Tajikistan, Turkmenistan and Uzbekistan.
Besides selected detachments from the armed forces, Central Asian nations' heads of state too arrived in Russia at Putin's invitation. Only Turkmenistan disappointed – its leader Gurbanguly Berdymukhammedov turned down the invitation in favour of his own birthday celebrations back home. Kyrgyz president Sooronbay Jeenbekov too missed the parade, though here the culprit was COVID-19. On arrival in Moscow, two members of the Kyrgyz delegation tested positive for the coronavirus, and Jeenbekov was forced to watch the action on TV.