In December, the now-traditional annual campaign "16 Days Without Violence" (part of the international campaign "16 Days of Activism Against Gender-Based Violence") was held in Kazakhstan, aiming to raise awareness about domestic violence.
According to data from the UN, around 400 women in Kazakhstan are killed each year as a result of domestic violence. "Thousands more women are dying slowly – both morally and physically due to chronic illnesses caused by injuries sustained from domestic violence," said Margarita Uskembayeva, president of the public foundation Institute for Equal Rights and Equal Opportunities of Kazakhstan and director of the ARASHA shelter for victims of domestic abuse.
According to the Kazakh government, the number of reported incidents of domestic violence in 2018 showed a 104% increase compared with 2015. However, precise statistics on the number of victims of abuse in Kazakhstan are not available, since these figures only reflect cases where victims have contacted police and law enforcement officers have responded to complaints.
Often the perpetrators do not even find their way into police records. This can be for a number of reasons: women fear losing the material support of a spouse or simply want to keep the family unit intact, filing a complaint may be felt to go against local notions of family duties, plus the fact that adequate mechanisms for spreading information about domestic violence and preventing its occurrence are still not in place in the country.
"It (domestic violence) occurs against the backdrop of the idea that an Eastern woman should be gentle and submissive. There are even books published by apparently successful women where it is stated that Eastern women should be quiet and acquiesce to their husbands' decisions," says Zulfiya Baysakova, chairperson of the Kazakh Crisis Centres Union.
Deep-rooted patriarchal values and a lack of education allow the perpetrators and even the victims of domestic violence to justify abuse with reference to traditional practices and attitudes, argues senior lecturer in jurisprudence at the Suleyman Demirel University Aigerim Kusayinkizi, who is preparing a thesis on gender economics. "Even if a woman decides to leave her tormentor, those around her will try to get her to change her mind – 'Stick with it! If you get a divorce, what will happen to the children?'" she said.
Aigerim Kusayinkizi also points out that some aspects of men's upbringing mean that they see their wives less as partners than as servants. "He has paid her dowry (still a common practice in a number of regions in Kazakhstan – note by Fergana) after all. And they say slavery no longer exists," laments Kusayinkizi.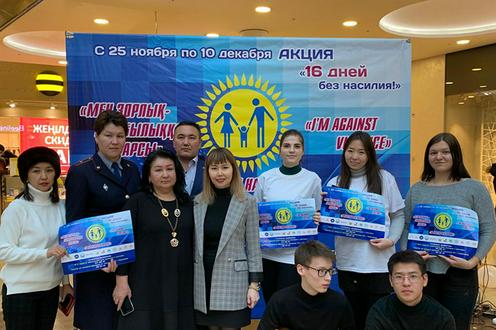 Participants in the campaign "16 Days Without Violence". Photo from Pavlodarnews.kz
Far from declining, cases of domestic violence have become more frequent in recent years and are closely linked to legislative changes in the country. Up until 2017, domestic violence was considered a criminal offence. It was punishable by a penalty of up to two months in prison. But in 2017, the articles "battery" and "intentional infliction of minor bodily harm" were transferred from the category of criminal offences to that of civil offences, and the number of those punished fell by 4 or 5 times.
According to data from the Ministry of Internal Affairs, 41 crisis centres (of which 29 are shelters) for the social and psychological rehabilitation of abused women and children are currently active in Kazakhstan. They have given assistance to 15,000 abused women, of whom nearly 1,500 were provided with shelter accommodation. In order to seek the help of crisis centre specialists, women in the country can simply dial 150 on their phones.
In the national report The Kazakh Family – 2019, it is pointed out that one in three Kazakh women will experience physical assault, sexual violence or some other form of abuse at some point in their lives, and half of all children between the ages of 2 and 14 will be subjected to excessive forms of punishment in the home. According to a survey by the Institute for Equal Rights and Equal Opportunities of Kazakhstan, around 75% of parents are in favour of corporal punishment for children, and consider it a way to control children's behaviour within the family. And two-thirds of adults questioned in the survey say they have used psychological or physical punishment to discipline their child. According to the same report, up to 79% of children suffer some form of violence at home, mostly on the part of parents or guardians. In percentage terms, intra-family violence is experienced by 44% of women, 26% of children, 16% of old people, and 6.8% of men. The most common form experienced is physical intra-family violence (74% of cases), followed by psychological (66.9%), economic (30.2%), and sexual (27.3%).