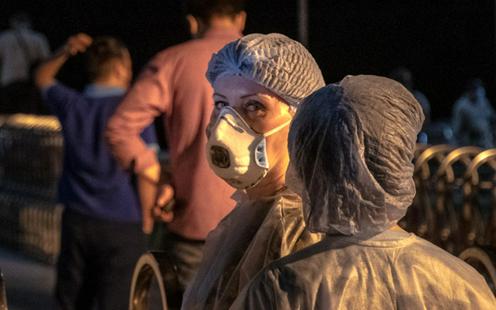 Medical workers in Kazakhstan . Photo from Tengrinews.kz
The State Commission of Kazakhstan has announced the details of the new general lockdown that will be introduced in the country from 5 July in order to hold back the spread of the coronavirus, the website of the Kazakh prime minister reports (in Russian).
As reported previously, Kazakhstan has seen a significant spread of the virus in recent weeks following the easing of strict lockdown restrictions in May. Earlier praised by the WHO as an example of an effective fight against the coronavirus, within weeks of lifting the general lockdown Kazakhstan has found itself on a WHO list of countries experiencing a "very significant resurgence" of COVID-19. As in neighbouring Kyrgyzstan, the country has also been suffering under a wave of severe pneumonia cases over the last week or so that are not currently included in COVID-19 statistics due to delays in testing or extensive false negatives. As signalled by President Qasym-Zhomart Toqaev earlier this week, the Kazakh government is now moving to avoid an imminent healthcare system collapse.
According to the new measures – which are to last for two weeks between 5 and 19 June, but may be extended or further tightened – people will not be permitted to gather in public in groups of more than three people, and those of 65 years of age will be forbidden from leaving their homes unless strictly necessary. Individual exercise in the open air is to be permitted, but all large public events are banned, together with private family events.
The following establishments and sites will also be closed: hairdressers and beauty salons, gyms and swimming pools, covered markets, beaches and water parks, cultural sites, museums, exhibitions, forums, conferences and other mass events, entertainment centres, children's pre-school facilities (apart from for restricted groups), places of worship, entertainment establishments (karaoke bars, pool halls, computer clubs, bowling centres), cinemas, children's activity camps, food courts and banquet halls.
Medical centres, however, will continue to operate (by appointment), along with pharmacies, food stores and open-air markets. The open-air sections of cafés and restaurants will be permitted to remain open, provided they carry out intensified disinfection work. Industrial firms with a continuous production cycle will remain in operation, as will outdoor construction projects, the agricultural sector and some service sector branches, such as auto repairs, appliance repairs and banking.
At least 80% of state employees, workers in state-run companies and office staff in other organisations will continue to work from home.
Currently authorised international and domestic flight connections will be maintained, with no further increase to the list of safe countries. Domestic rail travel will continue, though with a number of restrictions. Bus and coach travel between regions, however, will be suspended and the remainder of public transport will be subject to limits on hours of operation.
As of 2 July, Kazakhstan has reported 42,574 and 188 deaths, having this week stopped registering asymptomatic infections separately from the official total. In Kazakhstan, a special commission decides which fatalities are due to COVID-19 and which down to «accompanying illnesses». Earlier this week, health minister Aleksey Tsoi advised the government to apply a four-week lockdown, stating that a two-week lockdown would result in 7,000 patients per day requiring hospitalisation and a need for 80,000 hospital beds, far beyond current capacity.
A translation of a longer article on the situation in Kazakhstan recently published on our Russian website will be published on the English webpage shortly.