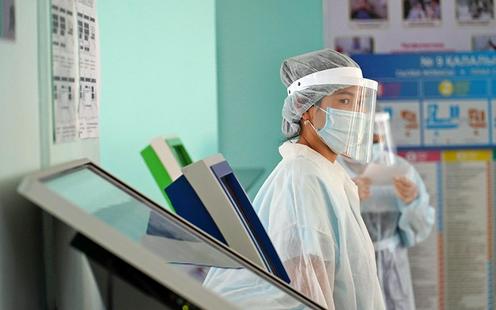 A clinic in Nur-Sultan . Photo from Astana.gov.kz
Kazakh health minister Aleksei Tsoy has stated that the level of coronavirus infections and fatalities in the country has now stabilised, Vlast.kz reports (in Russian).
"Infections are at the level of 1,500-1,600 people per day. Thanks to the swift implementation of (lockdown) measures for a two-week period, we have managed to obtain a decrease in the daily rate of COVID-19 infections from 4% to 2.1% and the number of those who have recovered has increased by 60%. The number of emergency services callouts has decreased by 23%, the occupancy rate for temporary hospital beds has decreased by 20% and for intensive care beds by 6%," Tsoy said.
After rising throughout June and early July, confirmed new infections in Kazakhstan have indeed plateaued over the last week or two, falling in the range of 1,500-1,850 since the country reported its record case rise of 1,962 on 9 July. The official figures do not of course yet count a major wave of patients who are not returning positive PCR test results despite showing clear COVID-19 symptoms. At the end of last week Aleksei Tsoy announced that the health ministry would start to include pneumonia cases that have "the clinical and epidemiological signs" of COVID-19 in the country's coronavirus statistics from 1 August. In the first half of July alone, 135,641 people were said to have been recorded as suffering from pneumonia (of all kinds, bacterial as well as viral), while Kazakhstan has recorded 73,468 cases of the coronavirus in total to date. And while the official death toll stands at 585, health ministry statistics suggest 1,555 Kazakhs died of pneumonia in the first two weeks of this month.
In Kyrgyzstan too (which has experienced essentially the same pattern as Kazakhstan, with a post-lockdown surge in both confirmed COVID-19 cases and cases of "community-acquired pneumonia" since the end of June) it was claimed yesterday that the surge has passed its peak – perhaps even more prematurely, looking at the statistics. Announcing 611 new coronavirus infections in the previous 24-hour period, health ministry spokesman Madamin Karataev – who admittedly constantly looks like he is desperate to give good news – had the following to say: "This shows that the epidemiological situation is being brought under control, (cases) are on the decrease. I won't claim that this is a definite sustained decrease, but the situation is under control. We can see a decrease in the number of both laboratory-confirmed infections and unconfirmed ones."
Kyrgyzstan already began merging its PCR-test-confirmed coronavirus cases and cases of COVID-like pneumonia at the end of last week. This led to a tripling of the previous daily record rise on 19 July with 1,926 cases. While yesterday confirmed cases dropped to 611, today they are back up to 1,108.
Both countries do appear much better equipped to deal with large caseloads than they were at the start of this surge 3-4 weeks ago. The scope and speed of emergency services operations have been increased, extra equipment has been obtained and new temporary day and night hospitals have been set up as a point of first contact for those with milder forms of the illness. Many, however, are wondering why such steps were not taken in advance. Especially in Kyrgyzstan, too, shortfalls in medical and auxiliary workers are being made up to a significant extent by a vast movement of volunteers.
Others, however, are taking to traditional – and not so traditional – remedies in the hope of warding off the coronavirus. Kazakh state news channel Khabar 24 reported yesterday that prices for kumis (horse milk) have doubled recently due to the belief that it can keep the body strong and safe from COVID-19. In Kyrgyzstan, meanwhile, rumours have apparently been circulating that eating dog fat can help protect you from the virus.