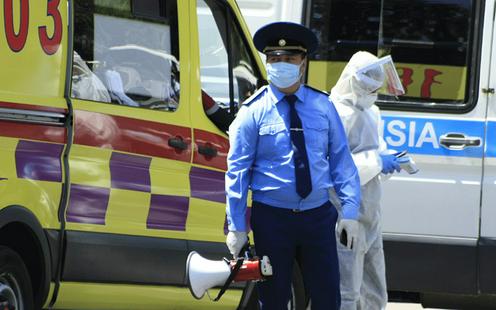 A quarantine checkpoint in Kazakhstan . Photo from Kaztag.kz
Kazakhstan's second lockdown will begin to be lifted on 3 August as long as four conditions are met, health minister Aleksei Tsoy stated at a government meeting today, according to Vlast.kz (in Russian).
These conditions are: an "R rate" of infection lower than 1 (i.e. each infected person passes the virus on to fewer than 1 other people, effectively leading to a decrease in overall cases); a hospital bed occupancy rate of lower than 70% over the course of one week; "a steady downward dynamic in the level of fatalities"; and the observation of social distancing and the wearing of face masks and the strengthening of disinfection work.
At present, according to the health minister, the rate of infection lies at 0.99. Three weeks ago, when the country announced its second lockdown, this figure was 1.2. Hospital occupancy levels in this period have fallen by 43% and currently stand at 47%. No mention was made of the changing dynamic with respect to fatalities. Kazakhstan has switched to reporting COVID-19 deaths weekly rather than daily (allegedly to allow specialists sufficient time to determine the cause of death), resulting in death figures on global coronavirus comparison sites remaining at an unnaturally uniform level of 29-31 per day since 13 July. This week's figure of 208 was more or less the same as last week's 210.
During the first stage of lockdown easing, the government plans to allow shopping centres and closed markets to reopen with restrictions on operating hours. Education centres, kindergartens (with reduced group numbers), hairdressers and beauty salons will also reopen. Outside exercise will be permitted, while maintaining a social distance.
Restrictions on the operation of public transport (no more than 50% occupancy) and the movement of people in public (groups of no more than 3) will remain in place, as will bans on the functioning of bars, restaurants, food courts, cultural establishments, sports halls and religious buildings and the operation of electric trains and intercity buses.
To date Kazakhstan has reported 84,648 cases of COVID-19 and 793 deaths, but these figures are likely to increase significantly on 1 August as the health ministry finally includes pneumonia cases – and not just positive coronavirus tests – in the country's official coronavirus statistics (not retrospectively, however, meaning that 135,641 cases of pneumonia recorded in the first two weeks of July alone will not find their way into the official figures). Daily new cases have been falling slowly since peaking at 1,962 on 9 July (down to 1,526 today), meaning that the government appears to have survived President Toqaev's earlier threat to remove it if it failed to swiftly control the virus's spread.
While some regions of the country are still struggling to contain the virus, the dynamic seems to have been particularly positive in previously hard-hit Almaty and Nur-Sultan. Already last week it was reported that the number of pneumonia hospitalisations in Almaty had fallen by two thirds and that tests suggested that one in four of the city's residents had developed immunity against the virus. At the end of June up to 300 people in the city were being hospitalised with pneumonia each day. The need to prepare for another wave of the virus in the autumn, though, has been stressed, with plans to add a further 1,000 hospital beds to facilities in the former capital.
Despite the positive dynamic, two more well-known Kazakhs join a long list of high-profile fatalities in the country. Well-known photographer, documentary filmmaker and ornithologist Oleg Belyalov died from COVID-19 last week, while famous economist Kenzhegali Sagadiev passed away at the weekend.
On a brighter note, the Kazakh government announced yesterday that former coronavirus patients will be entitled to undergo rehabilitation at the country's sanatoria and holiday resorts at government expense.