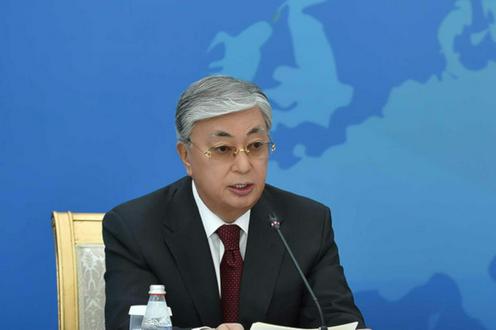 Kassym-Jomart Tokayev. Photo from the press office of the Akorda
Kazakh president Kassym-Jomart Tokayev has declared a national emergency in connection with the threat of the spread of COVID-19 coronavirus in the country. The text of the presidential decree has been published on the presidential website (in Russian).
The national emergency status is planned to last for one month – from 16 March until 15 April 2020.
During this time, measures to safeguard public order will be strengthened (including at strategically-important sites and on public transport) and large-scale sanitation operations will be undertaken in partnership with law enforcement agencies.
Restrictions will be placed on the operations of shopping centres and large stores, and entertainment venues, cinemas, exhibitions and other places with large gatherings of people will be closed. Sporting events and other large-scale public events are also banned.
The decree also stipulates the introduction of "restrictions on entry onto and exit from the territory of Kazakhstan by all means of transport, with the exception of Kazakh and foreign governments' diplomatic service staff and the members of international organisations' delegations".
The first official cases of coronavirus in Kazakhstan were reported on 13 March, after two Kazakh citizens returning from Germany tested positive for the virus. Later, other cases involving people returning from abroad or those who had been in close contact with them were also reported. As of the first half of the day on 15 March, eight cases have been confirmed in the country.
Earlier today, Uzbekistan became the second country in Central Asia to officially confirm a case of COVID-19, after a woman returning from France tested positive for the virus.