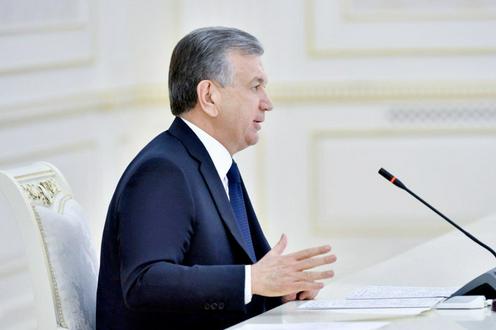 Mirziyoyev at the meeting on social welfare issues and the construction and infrastructure industries. Photo from President.uz
Uzbek president Shavkat Mirziyoyev has directed the country's special commission for the fight against the coronavirus to gradually soften quarantine measures in regions, districts and cities where no cases of COVID-19 have been recorded or where the epidemiological situation appears to be improving. The directive was given at a government meeting on 20 April (text in Russian).
Mirziyoyev also permitted the resumption of all forms of construction work, provided special sanitary and hygiene rules are observed. The internal affairs ministry has been tasked with taking steps to ensure the free movement of vehicles operating in the construction industry and the production of building materials. A number of other measures to boost the construction industry during coronavirus-induced difficulties were also approved at the meeting.
The new steps towards the gradual renewal of economic activity in Uzbekistan come a week after Mirziyoyev spoke of the need to resume work in agriculture, industry and construction, as well as other essential branches of the economy in the regions, declaring that "life goes on" and that "the time and opportunities we lose today will not return to us tomorrow". On the same day, the special commission ordered the resumption of operations at strategic manufacturing enterprises and on major construction projects.
Today's measures come at the same time as it has been reported that only one in five Uzbek companies has been able to continue operations during the lockdown measures. According to the press office of the country's State Tax Committee, 199,000 of Uzbekistan's 247,000 registered firms have been forced to suspend their activities during the crisis.
The Committee underlined that business-owners have been exempted from fixed income tax and social insurance payments throughout the lockdown period. Only 2,400 taxpayers have so far taken up this possibility.
Current lockdown measures in Uzbekistan were recently extended until 10 May. They include stiff fines for those in major towns and cities who leave their homes without a valid reason (purchasing food and medicine, visiting a doctor and travelling to work) or fail to wear a face mask in public. Public transport in major urban areas has been suspended and private vehicle travel is by special permission only. Schools, kindergartens and universities are closed.
According to the latest information on 21 April, Uzbekistan has 1,657 confirmed cases of COVID-19 and 5 deaths. Testing rates remain a little over half that of relatively low-testing wealthy European states such as the UK and Sweden.