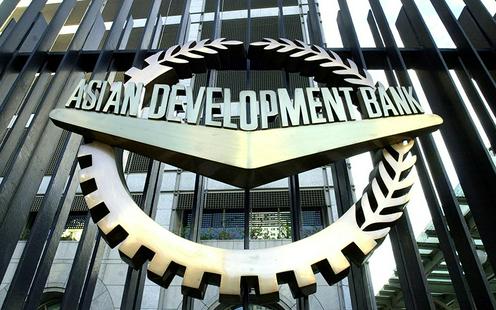 The ADB logo . Photo from mift.uz
The management of the Asian Development Bank (ADB) has approved the provision of $500 million of credit to the government of Uzbekistan. The sum will be added to the country's anti-crisis fund and used to mitigate the consequences of the COVID-19 pandemic on the Uzbek economy, the press office of the Ministry of Investments and Foreign Trade has announced (in Russian).
The Uzbek finance ministry stated that loan is to be paid back over 15 years with a grace period of three years.
The ADB funds will be used to shore up Uzbekistan's macro-economic stability and ensure the uninterrupted operation of strategically important branches of the economy, as well as for social support measures for the population, including for health service employees. Besides this, Uzbekistan plans to use the money to buy ventilators, coronavirus test kits and PPE.
Like other countries in the region and beyond, the Uzbek economy has been hit heavily by extensive lockdown measures aimed to counter the spread of COVID-19. Last week it was reported that expenditures from the country's Anti-crisis Fund have increased dramatically since the end of May. Of the $734 million spent from the fund up to last week (98.4% of which has come from money borrowed from international financial institutions), significant amounts (almost $100 million) have been allocated to social measures, including social benefits and public works projects such as road repairs and construction aimed at giving work to the unemployed. Nearly $60m has been spent on building and equipping quarantine facilities and temporary hospitals.
It was earlier reported that the Uzbek finance ministry had reached deals with the World Bank, the European Bank of Reconstruction and Development for $1.2 billion and $220 million respectively. In May the World Bank transferred a loan of $375 million said to be destined for the Anti-Crisis Fund.
The Asian Development Bank has previously provided $1.5 million of assistance to Uzbekistan to facilitate regional cooperation in dealing with the coronavirus. It has also allocated $50 million to both Kyrgyzstan and Tajikistan.
According to data from the start of 2019, since Uzbekistan joined the Asian Development Bank in 1995, the organisation has allocated more than $7.5 billion of funds to the country. Most of the funds have been used for projects in the energy ($2 billion), transport ($1.6 billion) and financial ($1.6 billion) sectors.