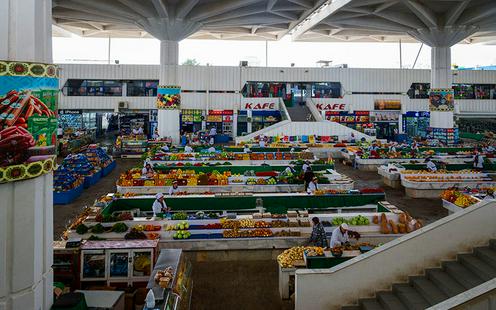 A marketplace in Ashgabat . Photo by Ilya Varlamov, varlmavo.ru
Between 21 July and 1 August, Turkmenistan is to close all markets and shopping centres (excluding sections for food and daily necessities), cinemas, theatres, parks, amusement centres, museums, beauty salons, hairdressers, public baths, dry cleaners, sewing workshops, gyms, fitness centres, swimming pools and children's play centres, pro-government news site Orient has announced (in Russian).
Cafés, restaurants and other catering establishments will also not be permitted to work as usual, but may operate by delivery. State agencies and private companies of all types are being advised to place their employees on vacation in a phased manner. Besides this, social distancing of two metres has been mandated in public places – in addition to the requirement to wear face masks already introduced on 13 July. At the end of last week, bus and train travel between the country's regions was also suspended. Orient writes that all these measures are being taken "with the aim of preventing the spread of infectious diseases". No mention is made of the COVID-19 pandemic.
The Turkmen government continues to insist that Turkmenistan remains one of a handful of countries around the world (generally isolated Pacific island states, plus North Korea) to remain free of the coronavirus. At the same time, independent Turkmen media (based outside of Turkmenistan, but relying on networks of correspondents and sources inside the country) regularly report news of coronavirus infections and deaths there. After being delayed by the Turkmen authorities for a full two months, a WHO mission recently spent nine days in the country between 6 and 15 July, with independent media reporting that the experts were shown a false façade of model hospitals emptied of COVID-19 patients. The WHO mission declined to openly question the Turkmen government's claims, but urged the country to act "as if COVID-19 was circulating".
Meanwhile, the Turkmen authorities have been pushing a bizarre theory, justifying the new need for face masks as the result of wind-borne dust and unspecified pathogens blowing into the country from the dried-up Aral Sea.
In line with this, the Turkmen government seems to have taken token, performative disinfection work to a whole new level by employing light aircraft to disinfect the air around the country's borders. As Orient reports in another article, planes flying at a height of 50-60 metres will spread a trail of chlorine solution in order to destroy "pathogenic microorganisms in the air". Besides the aircraft, off-road vehicles are apparently also being used to spray disinfectant on the ground in border areas. "Scientists have discovered that bacteria and viruses can be carried by dust over large distances," Orient writes. "Pathogenic organisms generally attach themselves to small, light organic particles in the air, which allows them to last in the atmosphere for longer. As such, the 'bombardment' of potential viruses with the help of light aircraft is an entirely justified way of defending Turkmenistan from dangerous threats to the life and health of the population."
Today's partial lockdown measures are far more extensive than anything the Turkmen government has put in place during the pandemic so far. The country was previously quick to close its borders and introduced some temporary restrictions on domestic travel, but the use of face masks was actively discouraged (and in some instances even subject to fines) until the arrival of the WHO mission earlier this month.