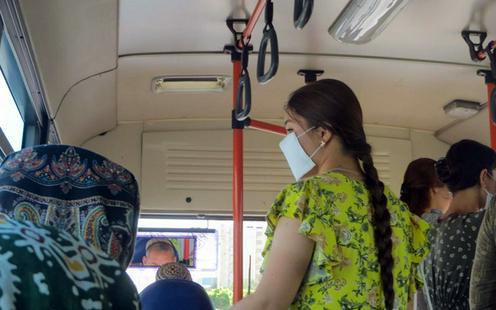 Passengers in face masks on a bus in Ashgabat . Photo from Hronikatm.com
At least two of Ashgabat's main hospitals, the Niyazov Hospital and the hospital at the Scientific-Clinical Centre of Cardiology (a former Red Cross hospital, still known by this name) have been reconfigured as facilities for pneumonia patients, Turkmen.news writes (in Russian).
The opposition outlet reports that all of the Cardiology Centre's patients have been discharged and sent home. According to Turkmen.news's journalists, the authorities have been forced into such a move due to a sharp increase in the number of people requiring treatment for pneumonia. The city is also experiencing a shortage of medical staff. Some hospital workers have themselves fallen ill. A GP working at Ashgabat Polyclinic No.8, Tamara Khydyrkulieva, for instance, is said to have died of presumed COVID-19. Other medics are quitting or taking leave as they are scared to continue to work without PPE (with which they are not being provided) in the midst of an epidemic. Some reports suggest that medical workers who attempt this are being threatened with treason charges.
Turkmenistan is of course one of the last remaining countries in the world not to have registered a single official case of COVID-19. In order to justify the lockdown measures that have been put in place since the arrival of a WHO mission earlier this month, the authorities have instead been speaking of "harmful dust" blown into the country from abroad and have even taken to disinfecting the skies around the country's borders by plane. This line was repeated yesterday in official media statements urging the population to celebrate the approaching Islamic holiday of Kurban Bayram (Eid al-adha) in their homes rather than in public.
"These days, in connection with the increased concentration in the air of dust particles harmful to health, we recommend wearing medical face masks, maintaining a safe distance of 2 metres, and also restricting mass events during the days of Kurban Bayram and celebrating it at home," an article by official news agency TDH states.
RFE/RL's Turkmen service Azatlyk writes that mobile phone users have been receiving text messages since 21 July advising them to wear face masks "in order to prevent the unpleasant effects of weather conditions on the human body".
Local activists have meanwhile set up a website to gather information about presumed coronavirus deaths in the country. To date, 50 names have appeared on the list. Turkmen.news has been carefully compiling its own list of victims, including a Turkish diplomat, and says that it "carefully check(s) each report, so that there can be no doubt about the reliability of the stated facts".
A series of reports fired off by Azatlyk over the last few days has painted an even darker picture. Speaking of a "funerals boom" in Ashgabat, the outlet wrote in articles on 23 July and 24 July that the capital's cemeteries are witnessing "endless funeral processions, hundreds of vehicles assembled (outside) and large numbers of new burials". Azatlyk's correspondent reported seeing "hundreds" of new graves appearing in one Ashgabat cemetery over the last ten days, with grave diggers working "in assembly-line fashion". "The gravediggers dig and the bodies are immediately brought for burial, one after the other". Correspondents say that the bodies are wrapped in a plastic covering and covered with a substance soaked in chlorine before being handed back to families. Hospitals around the country are said to be running out of such plastic coverings for the bodies of the dead.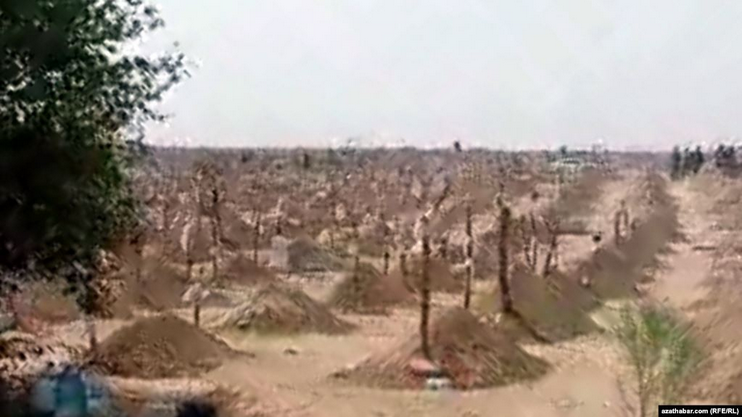 A series of fresh graves at a cemetery on the outskirts of Ashgabat . Image from RFE/RL
News site ACCA published its own parallel report on 24 July of people dying "en masse" in Turkmenistan, claiming that over 1,300 people have passed away from COVID-19 in the country's western Balkan region alone. Using Google Maps, it is said to be visible that, while 524 graves were dug in the city of Balkanabad between May 2018 and March 2020, 317 new graves appeared there only between 25 March and 16 April this year. As Eurasianet has pointed out, given the reliance on a single anonymous source and rather conjectural methodology, such figures should be treated with extreme caution.
Azatlyk's correspondents are meanwhile reporting on overfull hospitals around the country and a major wave of people ill in their homes with a cough and a high temperature. The outlet's sources in the country's health system are regularly reporting on positive test results for COVID-19. Many patients, however, are not being given their test results and doctors are forbidden from talking about the coronavirus. According to one such source in the Lebap region, patients with COVID-19 symptoms are being given the diagnosis "viral respiratory infection".
In Ashgabat, it is said that one building has been converted into a quarantine zone for patients with confirmed COVID-19 test results. There is space for around 1,000 patients and relatives are expected to provide the necessary medication. "If a patient doesn't have any relatives who can bring medication then they won't get any treatment... Essentially this is not treatment, but isolation," Azatlyk's correspondent said. Police cars reportedly circulate around the city each evening warning people by loudspeaker not to leave their homes.
Hospital workers are said to be angry at the lack of assistance from the Turkmen government. Gloves, masks and food they are apparently being made to pay for themselves. It is even claimed that half a million dollars' worth of PPE provided by the WHO is now being sold to medics by the hospital authorities.
Turkmen.news has meanwhile reported today that patients at one hospital in Ashgabat are being asked to pay bribes in order to gain access to a ventilator. The outlet's sources say that the hospital began to run out of ventilators already in mid-June and that the price for having one's loved one connected to such a machine has now risen to $400 per day, higher than the country's average monthly wage. Relatives are said to be required to pay for 10 days in advance, as this is claimed to be the necessary recovery time. Law enforcement officers are apparently making no efforts to prevent such corruption as they themselves are anxious about their own family members' health and are among the first to pay such bribes.
The situation appears to be no better in the regions than in the capital. Hospitals in Turkmenabad are said to have stopped admitting patients due to a lack of free beds, and one of the city's bazaars has reportedly been converted into a field hospital for the sick. "A great many people are ill, many are dying," Azatlyk's correspondent in the city stated. Several hospitals there have been closed for quarantine due to the surge of coronavirus patients, leaving most regular patients are unable to obtain treatment.
In the Mary region, the outlet's sources report that at least 30 people with COVID-19 symptoms are dying a day and that medical facilities there too have been converted into quarantine zones. All infectious diseases hospitals in the city of Mary itself are said to be overfull.
In the Western city of Turkmenbashi, Azatlyk's correspondent stated that "up until several days ago (...) everything was quiet, now things have almost reached the point of panic". Some settlements in the region are reportedly seeing several deaths a day.
As always with Turkmenistan, the unavoidable reliance on anonymous sources makes it difficult to say with any certainty what is actually going on on the ground. What does seem to be clear is that the country's COVID-19 epidemic is now well and truly underway. Throughout all of this, President Gurbanguly Berdimuhamedow and his government remain on holiday, with official media choosing to focus on the head of state's exploits during his vacation (see Eurasianet for a nice video of state TV coverage of Berdimuhamedov's fishing trip) or offering highly contrived explanations for the far too late introduction of major anti-epidemiological measures. "The Turkmen people are angered by the slyness of the government of Turkmenistan. The authorities claim that masks are being worn because there are particles of dust in the air – why then demand that people observe a social distance of 2 metres?" Azatlyk's correspondent asks with all justification.