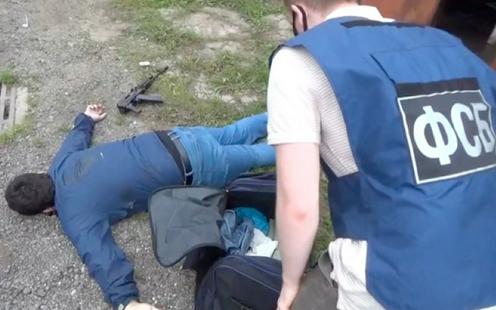 The dead suspect Odil Kayumov . Photo from Vesti.ru
19-year-old Tajik national Odil Kayumov, who was shot dead in the city of Khimki outside of Moscow by officers of the Russian Federal Security Service (FSB), was suspected of preparing to carry out a terrorist attack in Moscow's Gorky Park, Kommersant has reported (in Russian). A press statement by the FSB names only "a citizen of one of the countries of Central Asia", without specifying his nationality.
According to the FSB, Kayumov was planning to carry out a mass killing in the popular Moscow park on 26 July using an automatic rifle and grenades. On the same day, responding to intelligence about an imminent attack and weapons hidden in a garage in Khimki, the security services attempted to arrest a young man in the garage complex area who was carrying a heavy sports bag. In response to demands to present ID, the man removed a Kalashnikov from the bag and fired a short burst. In the return fire he was killed. Documents identifying him as Odil Kayumov were found on his body, as were two spare magazines and three grenades, all ready for use.
From Kayumov's rented apartment, the FSB allegedly recovered video recordings and books testifying to his links with the Islamic State (IS, banned in Russia as a terrorist organisation).
Kommersant writes that the Tajik national had tried for several months to find work in Belorussia without success, before moving to Chekhov in the Moscow Oblast, where he lived with relatives and got by on casual jobs. TASS quoted a source in law enforcement agencies as saying that Kayumov was in Russia legally and had a labour patent, and that he had not previously been part of any police investigation.
According to the Kommersant, Odil Kayumov's relatives first noticed a number of adherents of radical Islam among his internet contacts in the spring of this year. In the middle of June he disappeared. His older brother contacted the police and mentioned that, before leaving, Odil had expressed a desire to travel to Syria. Kayumov had allegedly sworn allegiance to IS via a messaging app and had been promised help in getting to Syria through Turkey in exchange for carrying out a major terrorist attack in Moscow. He was then told of the location of the garage.
Kayumov's brother, who went to the police, is apparently also under arrest and being investigated to establish whether he has links to terrorist groups.
Human rights advocates and Kayumov's relatives have meanwhile cast doubt on the FSB's claims that Kayumov was preparing a terror attack, and the Tajik embassy in Russia has asked for an explanation of the circumstances surrounding his death. One fellow migrant said that he had been warned instead that Kayumov was collaborating with the FSB. The president of the Society of Political Migrants of Central Asia, Bakhrom Khamroev, has also cast doubt on the veracity of the official claims, labelling the FSB operation a repeat of previous supposedly counter-terror operations involving migrants and arguing that the whole affair is simply a clumsy attempt to divert attention from the protests in Khabarovsk.
Another group of Tajik citizens has meanwhile been arrested today in Saint Petersburg on suspicion of aiding terrorism. Charges have so far been brought against one man, Idibek Kamilov.
According to Konkretno.ru, Kamilov is an active supporter of the Islamic State and convinced his friend Nurmuhammad Nurmatov to go and fight in Syria. Kamilov transferred money to Nurmatov to allow him to buy a ticket to Turkey. Local police claim that Kamilov's flatmates, too, intended to travel to the Middle East to join the ranks of terrorists. Ahead of their trip, the would-be warriors were to "swear allegiance" to IS by carrying out a knife attack on Russian police or National Guard officers. If this failed then they were to attack members of the public. Charges against the rest of the group are yet to be filed.
The two counter-terror operations involving Tajik citizens bring the number of such events involving Central Asian nationals in Russia over the past week to three, following the arrest of 22 members of the Islamic Movement of Uzbekistan (banned in Russia) in Moscow on 23 July. The men were allegedly also recruiting people to fight in Syria.