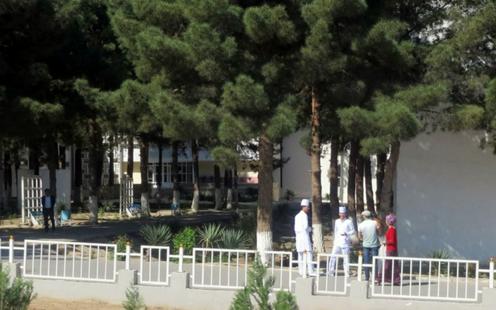 A hospital in Turkmenabad . Photo from Azatlyk
Medical staff in the Turkmen city of Turkmenabat who demanded an improvement in their working conditions amid a presumed coronavirus epidemic have been threatened with criminal charges, Chronicles of Turkmenistan reports (in Russian).
In July, around 120 medical workers signed a statement which was then sent to the Turkmenabat city administration. They argued that the authorities had a duty to supply them with PPE to protect them from COVID-19 and to purchase sufficient supplies of medication and equipment for patients. The medics also demanded that the authorities set up a dormitory for them (as has been common practice in Central Asia during the coronavirus crisis), so that they do not have to return home after their shifts and risk infecting their families.
Chronicles' journalists found out that on 20 July the statement's authors were summoned to a meeting at the local Ruhyýet Palace. There they were met by the deputy head of the Lebap region administration (of which Turkmenabat is a part), the heads of the health department and members of law enforcement agencies. The officials accused the doctors of breaking their Hippocratic Oath, of opposing the policies of President Gurbanguly Berdimuhamedow, and of attempting to exploit the difficult situation in order to extract privileges. Regional prosecutor Muhammetoraz Gurbanow then warned them that they could have criminal charges brought against them for writing this kind of complaint.
The Turkmen government, of course, continues to insist that Turkmenistan is one of a handful of countries around the world (generally isolated island states) to remain free of the coronavirus. Independent media, however, are reporting on a surge of pneumonia cases in the country and a significant number of deaths. Last week it was claimed that residents in the Lebap region are being ordered to hide new graves from satellite imaging. The Turkmen authorities meanwhile continue to explain current lockdown measures as being due to "harmful dust" blowing into the country from abroad.
After being delayed by the Turkmen authorities for a full two months, a WHO mission spent nine days in the country between 6 and 15 July, with independent media reporting that the experts were shown a false façade of model hospitals emptied of COVID-19 patients. In its subsequent press briefing, the WHO team avoided contradicting the government's official line but urged the authorities to act "as if COVID-19 was circulating". Last week, Turkmen opposition activists in Washington laid a set of fake coffins outside the WHO office in the city in protest at what they see as connivance in the Turkmen government's attempts to cover up the epidemic.