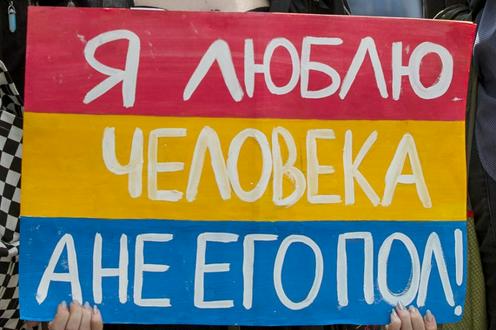 Photo from currenttime.tv
A court in Ashgabat has sentenced a famous entertainer, presenter and performer (named only by his initials G. S.) to two years in jail on sodomy charges. Turkmen.news reports (in Russian) that the sentence was passed on 7 May but has only now become widely known.
According to Turkmen.news, several other men were also sentenced alongside the performer, though exactly how many was not stated. All are said to have signed confessions.
The arrests among the Turkmen show business and modelling industry elite are said to have been carried out during the second half of March, but were first reported in mid-April. According to Turkmen.news's sources, several of those arrested were later able to buy their own release. Some participated in the trial as witnesses. The fact that the main defendant's father is a famous Turkmen diplomat apparently failed to help him.
Turkmenistan and Uzbekistan remain the only countries in Central Asia where consensual private sexual relations between adult men are criminalised.
A 2019 report (in Russian) entitled "The life of LGBT people in Turkmenistan", published by the rights organisation Kyrgyz Indigo with the support of the international LGBTI rights organisation ILGA-Europe, gave some insight into current conditions for gay men in Turkmenistan. The report states that Turkmen police targeting gay men employ a standard method of entrapment: they arrange a date via an app or a dating site and then arrest their victims – but instead of pressing criminal charges, they normally try to extort money from the men and pressure them to help them find new targets.
"The LGBT community is fragmented into small groups, in which people trust one another but do not let 'outsiders' in," said the author of an investigation by RFE/RL. According to the website's interviewees, although sodomy has always been part of the country's criminal code, no one made any particular effort to target gay men until a video was made public in 2011 showing a teacher at Ashgabat's medical university having sex with two of his students.
"In 2012 everything changed. One after the other, friends and acquaintances disappeared, parents' children went missing and they only found out later when all relatives were summoned to court and the young men were publicly tried and humiliated under article 135 part 1 ("Sodomy"). They arrested people at their workplaces or carried out raids on apartments. Everyone was scared and no one could help," 41-year-old Dangatar told Kyrgyz Indigo.
The first gay man in Turkmenistan to come out publicly and make the issue of homosexuality in the country a topic of international discussion was Kasym Garayev. In 2019, he went missing after speaking to independent media outlets about his sexuality and the arrests, humiliations and attempts to "cure" him with the help of religious officials that he had endured. He reappeared only after international rights organisations took up his case, but then disavowed all of his previous statements, calling his public coming-out "a mistake" and assuring that everything was fine with him.
The Turkmen authorities have rejected international criticisms of the country's laws criminalising homosexual relations. During the UN Human Rights Committee's review of a report on Turkmenistan's compliance with the International Covenant on Civil and Political Rights (ICCPR) in March 2017, the Turkmen government's representative Shemshat Atajanova stated that the decriminalization of same-sex relations was not open for discussion. She said that such behavior is contrary to Turkmen culture and the mentality of Turkmen citizens, and that the implementation of such a legislative amendment would not be accepted.