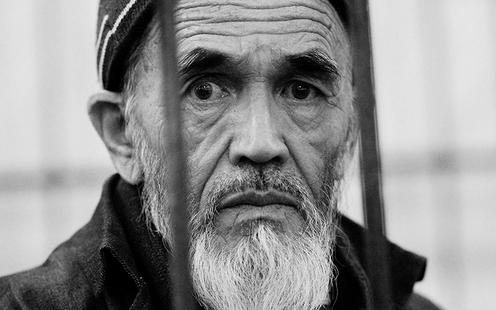 Azimjan Askarov . Archive photo from hrw.org
The European Union has called for an objective investigation to be carried out into the death of Kyrgyz human rights advocate Azimjan Askarov, who died in prison on 25 July. The statement by the EU's foreign affairs body, the European External Action Service, can be found on the agency's website.
"The EU had followed the judicial process against Mr. Askarov since his arrest in 2010," the statement reads. "On the basis of the opinion of the UN Human Rights Committee, we had expressed repeatedly our opinion on the court proceedings and had called for Mr. Askarov's release.
"The EU had shared with Kyrgyz authorities its concerns about his deteriorating health. We strongly regret that despite the calls for his release on humanitarian grounds, Mr. Askarov has died in prison.
"It is important that the circumstances of his death, and the conditions in which he was held in the final months of his life are clarified."
The ethnic Uzbek rights activist Azimjan Askarov was first reported seriously ill with coronavirus-like symptoms on 20 July. It was not until 24 July, however, that he was transferred to a well-equipped medical facility and put on an oxygen concentrator, having been diagnosed with "community-acquired pneumonia». On the morning of 25 July, Askarov died. The cause of death has been recorded as bilateral massive pneumonia.
The Kyrgyz prison services have put forward their version of Askarov's death, while Fergana general director Daniil Kislov, who knew Askarov well following the latter's collaboration with Fergana News in the early 2000s, has issued a statement blaming the Kyrgyz authorities for his passing.
Despite the recent surge of coronavirus cases and "community-acquired pneumonia", the Kyrgyz penal service refuses to test inmates for COVID-19, arguing that there is no need to do so. Only prison employees are tested. Askarov thus looks to be the latest high-profile prisoner of conscience to die in jail of COVID-19, following the death of journalist Mohamed Mounir in Egypt earlier this month. Numerous human rights organisations, including the UN Human Rights Committee, had for years been calling for Askarov's release.