A serious socio-political scandal is brewing in Kazakhstan. The country's government could lose face in the international arena if it agrees to return to China two ethnic Kazakhs who have sought asylum in Kazakhstan.
▪ Note: Around 1.5 million ethnic Kazakhs live in Western China. Their fate is in many respects similar to that of the Uyghurs living in the Xinjiang Uyghur Autonomous Region (XUAR).
In October 2019, the case of two ethnic Kazakh Chinese citizens who had fled Xinjiang province was made public. Qaster Musakhanuly and Murager Alimuly had crossed the border into Kazakhstan illegally and made contact with human rights advocates, who were able to arrange a press conference in Almaty and direct an appeal to the Kazakh government to grant the men political asylum in the country.
As grounds for their application, the young men stated that in China they had suffered "oppression and harassment" and the violation of their national, civil and political rights. They invoked the Convention Relating to the Status of Asylum Seekers, signed by Kazakhstan, as well as the country's law on refugees.
They broke my body down from the inside
The Chinese citizens were able to relate the reasons that led them to cross the border illegally.
Qaster Musakhanuly is 30 years old. He lived in Xinjiang province, and in March 2013 police came and took him to one of the "reeducation camps" in Durbuljin county. "After I was arrested, they didn't let me sleep for three days. They cuffed my hands and legs, sat me on a steel chair, beat me and put an electrode in my mouth. This form of torture was used to break the body down from the inside, without leaving external marks. They beat me without stopping. They beat me until they got tired themselves," Qaster said.
Qaster recounted how he lay unconscious for three days after the beating. "Having broken me, they forced me to sign a false confession and then sent me to the camp," he continued. He says he spent four years and eight months at the camp. "In November 2017, I was released from prison and returned home. They also sent my brother to a camp, we had no news of him. Even after I got home they didn't leave me in peace – I was under house arrest. For a year and four months I was under strict surveillance," said Qaster.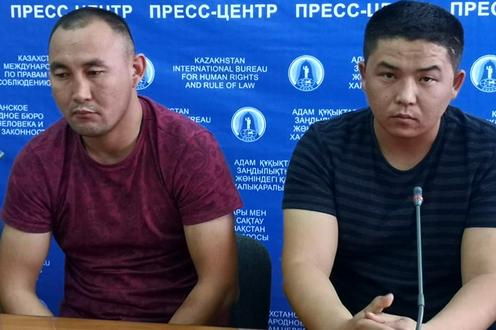 Qaster Musakhanuly and Murager Alimuly. Photo from Azattyq.org
He added that there are two types of "reeducation camps" in Xinjiang. Closed camps, where people are kept locked up, and open ones, where they are not incarcerated but simply attend classes at set times of the day, where they learn Chinese and are taught about Communist Party policies. Those who are released from the closed camps join these classes, and under strict police surveillance have to speak enthusiastically about their studies and deny reports of torture.
Qaster and others released from the camps were told that they were not allowed to leave the region. In order to feed his family, he asked the local authorities for permission to work. "But they didn't give me permission. And didn't let me leave the area. Despite the ban, I found a way to earn money – I traded in meat and livestock. But in August 2019, having found out about my work, the local police once again called me in. I went together with my business partner Murager Alimuly (25 years old – ed.). They accused us of bribery and locked us up for 24 hours. Once again we were beaten and tortured. Then they made us pay a 300,000 Yuan fine, which is 16.8m Tenge ($44,200)."
Seven days across the steppe on foot
"After we were released, things became even more difficult for us," he continues. "Surveillance over us was stepped up. At the end August they once again called us in, we didn't even know what for. They said it was time to get ready for the "reeducation camp". This time we knew we wouldn't get out of there alive."
So the young pair decided to flee. On 1 October they got hold of a motorbike and rode it to an area close to the Chinese-Kazakh border, then took themselves on foot through mountains to get away from populated areas. Having reached the border, they crossed it at night: on 6 October they jumped the chain-link fence and took themselves over the Kazakh border. Two days later the men reached Almaty, where they got in touch with relatives who took them to human rights activists.
In Xinjiang, Qaster left behind a mother, a wife, a seven-year-old daughter and a younger brother who in 2016 was also sent to a political reeducation camp.
Murager left his parents, wife and five-year-old son. "They forced our (Kazakh) girls to marry Chinese men. Cases of rape and pregnancies from ethnic Chinese became more frequent. Seeing such oppression, we didn't know what to do. That's why we had to cross the Kazakh border illegally," it is stated in the text of Murager's application for asylum.
The danger of a return to China
Kazakhstan's National Security Committee announced that the country would return Musakhanuly and Alimuly to China. The court case against them for the violation of state borders is scheduled to conclude at the end of December this year. The refugees' lawyers have stated that they could face the death penalty if returned to China. They insist that Musakhanuly and Alimuly cannot be returned to China since their asylum application has been officially registered by the government.
On 9 December, two well-known Kazakh politicians associated with the country's democratic movement came out in support of the two Chinese Kazakhs.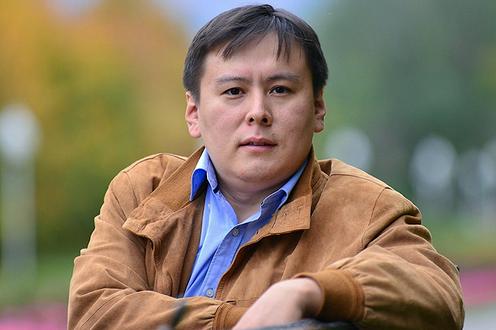 Zhanbolat Mamai. Photo from Kz.media
"Our position is clear: they should not be returned to China. We are prepared to start a large-scale political campaign in their defence. We will collect signatures. Their (ethnic Kazakhs') defence is a matter not just for one activist group or organisation, but for the whole country. We will watch how the court case against them develops. If there is the slightest danger that they will be handed over to China then we will launch a major public campaign – demonstrations and public petitions. We're prepared to do anything," declared Zhanbolat Mamai, one of the initiators of the projected Democratic Party of Kazakhstan (DPK).
Another DPK initiator, the prominent politician Tulegen Zhukeev stated that the case of the two Kazakhs who fled from Xinjiang is a moral issue for the whole of Kazakh society.
"On the pretext of waging a war against religious extremism, the Chinese are persecuting those who simply want to preserve their identity. It is the historical and moral duty of the whole Kazakh society to stand up for the Kazakhs who live there and protect them from persecution and the total destruction of their identity. If we don't stand up for them now, then we won't be able to defend ourselves when it comes to it someday in the future. The whole of Kazakh society, if it considers itself a part of our common homeland, should join together to defend Kazakhs and Turkic speakers who are suffering in Xinjiang," said Tulegen Zhukeev.
The politicians added that, looking forward, if there is a threat of a total destruction of a distinct Kazakh identity in Xinjiang, then the possibility of ethnic Kazakhs' repatriation to Kazakhstan will have to be considered.
"The lands on which Kazakhs live today – these are their historical homelands. A population transfer is not the best solution, but sometimes in history, dramatic circumstances arise which warn of an approaching tragedy. If the current treatment of Kazakhs persists, then it will become necessary to start looking into the wholescale repatriation of Kazakhs to Kazakhstan," concluded Zhukeev.