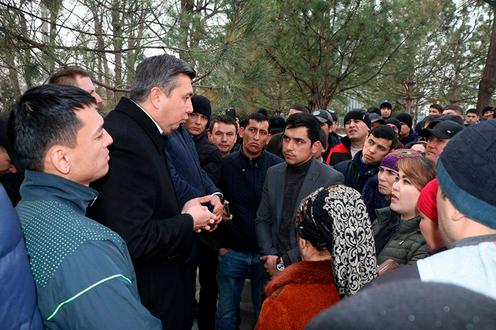 At a meeting with aggrieved clients of the private agency Human. Photo from daryo.uz
Prime Minister of Uzbekistan Abdulla Aripov has announced plans to ban private employment agencies in the country, Kun.uz reports (in Russian).
Aripov stated that a draft law ordering the closure of all private employment agencies is to be presented to the president for consideration. According to him, only the Agency for External Labour Migration under the Ministry of Employment and Labour Relations should be engaged in finding job placements for Uzbek citizens abroad.
Aripov made the announcement at a meeting with clients of the private employment agency Human, responsible for defrauding more than a thousand people whom it had promised job placements outside of the country. As Daryo.uz reports, on 17 February, dozens of people gathered at Tashkent's Mustaqillik (Independence) Square demanding that the government compensate them for money they had paid to the agency, arguing that the agency had been licensed by the government. The demonstrators were met first by Deputy Prime Minister Aziz Abduhakimov, and then by current head of government Aripov. He announced that he had informed the president of the situation and Mirziyoyev had ordered compensation to be paid to 1086 Human clients from a special fund at the ministry of labour.
Criminal charges were brought against Human by the Uzbek prosecutor-general in September 2019 following a collective petition from Uzbek citizens who had fallen victim to the company's malpractice. According to the charges, the firm's clients paid between 18 and 35 million Soms ($1,882-3,660) each for work placement abroad, but not one of them was given a job. In January, Human director Shohnur Fayzullayev was sentenced to ten years in prison and ordered to pay a fine of 21 billion Soms (around $2.2 million) in compensation to the victims.
(Abdulla Aripov meeting with clients of the employment agency Human. Photo from Kun.uz)
This is not the only such case in Uzbekistan recently. An even larger number of people – around 3,500 – fell victim to the employment agency Korean and Migration last year. The firm took between 27 and 32 million Soms ($3,000-3,400) from each of its clients, amassing a total of around 20 billion Soms ($2 million). Six of the agency's employees were arrested, another is still wanted.
Private companies were given permission to broker employment for Uzbek citizens abroad in September 2018. The relevant licences are awarded by the ministry of labour. By the end of 2019, around 60 private employment agencies were operating in the country. Around another 30 organisations were waiting to receive a licence.