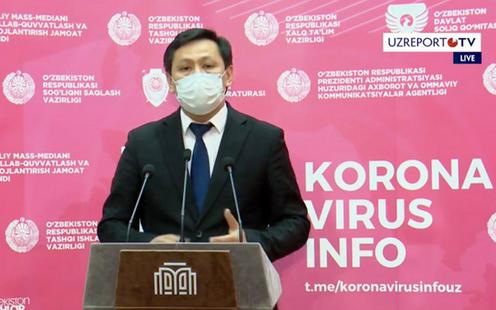 Bakhrom Almatov . Still image from UzReport TV
Uzbekistan has confirmed its first case of community spread of the COVID-19 coronavirus. The announcement was made by the country's chief medical officer, Bakhrom Almatov, at a press conference in Tashkent, Gazeta.uz reports (in Russian).
Almatov said that a 20-year-old Tashkent resident who had not been abroad and has not been in contact with any previously known cases has tested positive for the virus. None of her relatives have recently returned from abroad.
Uzbekistan's head doctor also shed light on how the virus initially spread in the country. After arriving from Paris on 11 March, the first patient, a doctor at a private clinic, had invited 35 guests to her home. 13 of them later tested positive for the virus. Members of her family were also infected (10 people are registered at her address). At work, she came into contact with 80 colleagues and 42 patients. Contact tracing soon led to these individuals being taken into quarantine, but by then they had come into contact not only with their own families and acquaintances but also spread the virus while going about their daily routines.
"This chain will continue. It is spreading at an exponential rate," Almatov said.
After confirming its first case on 15 March, according to the latest information on 24 March, Uzbekistan has now reported 50 instances of coronavirus infection. Previously, the country has closed its borders and schools. All places of entertainment and restaurants have also been closed. Yesterday, the authorities issued decrees making the wearing of face masks in public obligatory and suspending public transport to, from and within Tashkent and some other cities. Only residents of the capital and those working there will be allowed into Tashkent. Today, the government has ordered the closure of all non-food markets around the country and enjoined employees of all organisations, regardless of form, to wear medical masks when dealing with members of the public. They are also to be given leave or work from home as far as possible.