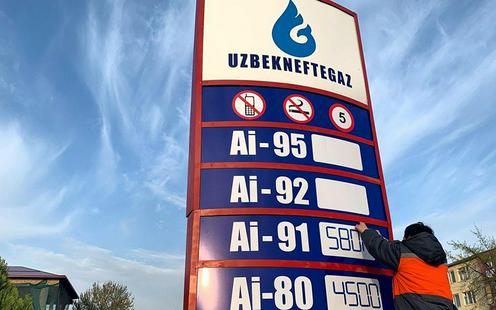 Photo from Kun.uz
From 1 May 2020, Uzbekistan will abolish state regulation of retail prices for AI-80 petrol and diesel, a new decree by the country's president, Shavkat Mirziyoyev, published on the Telegram channel of the Uzbek justice ministry, has announced (in Russian).
AI-80 is the cheapest and most popular fuel in the country. Its current price is 4,500 soms ($0.47) per litre.
The presidential decree proposes the establishment of a roadmap to raise the performance of enterprises in the petroleum industry. An anti-corruption compliance management system is to be introduced. Companies are advised to hire foreign experts and specialists, including Uzbeks currently living abroad.
Government shares in Uzbekneftegaz and Uzkimyosanoat, which oversee the petroleum and chemical industries, are to be increased.
In the summer of last year, the Uzbek authorities liberated the price of AI-91 petrol. Fuel prices were expected to soar as a result, but this did not happen. Uzbekneftegaz's deputy head, Ulugbek Ashurov, told Uzbekistan 24 today that, given the recent collapse in global oil prices, the cost of AI-80 and diesel will fall after liberalisation.