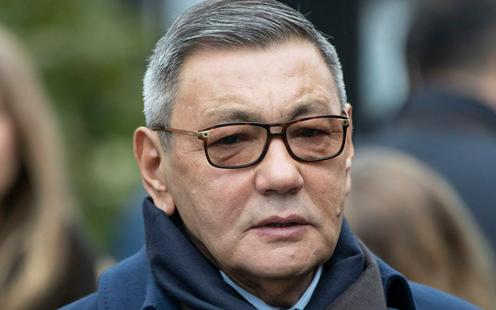 Gafur Rakhimov . Photo from Currenttime.tv
A court in Washington has refused to remove the Uzbek businessman and former president of the International Boxing Association (AIBA) Gafur Rakhimov from the US Treasury Department's sanctions list, PRAIM reports (in Russian).
The US Treasury's Office of Foreign Assets Control (OFAC) placed Rakhimov on its sanctions list in 2012. Rakhimov was accused of participating in the activities of the criminal group "Bratski Krug" (Brothers' Circle), a gathering of crime bosses from across the former USSR. In 2017, the Treasury Department amended the wording of the sanctions, charging Rakhimov with assisting a network of crime bosses. Rakhimov labelled the decision unlawful and arbitrary.
In his ruling, Federal Judge James Bosberg stated that: "The secret data (of the Ministry of Finance), examined by the court via video link, contain data on the connection between the (alleged) crimes of Rakhimov and the crimes of thieves in law [a reference to the Russian term "vor v zakone" – essentially organised crime bosses]. He did not provide the court with any data that could refute this conclusion, but only incorrectly stated that the data (of the Ministry of Finance) are obviously insufficient."
In 2018, Rakhimov claimed that the US measures against him were based on false information which he alleges was deliberately planted against him by the now-imprisoned daughter of Uzbekistan's first president, Gulnara Karimova.
The businessman and his wife were also wanted in their homeland. However, after current president Shavkat Mirziyoyev came to power, their names were removed from the wanted list and the Uzbek government wrote a letter to the AIBA stating that the accusations against Rakhimov were baseless.
Gafur Rakhimov has been a member of the executive committee of the AIBA since 1998 and was elected the organisation's president in 2018. His appointment provoked protests from the International Olympic Committee on account of Uzbek businessman's presence on the US Treasury's sanctions list. The IOC stated that it was in the process of investigating the AIBA (Rakhimov's predecessor was accused of embezzlement) and warned that Rakhimov's presidency could lead to boxing being excluded from the Olympic Games. In July 2019, Rakhimov left the post of head of the AIBA.