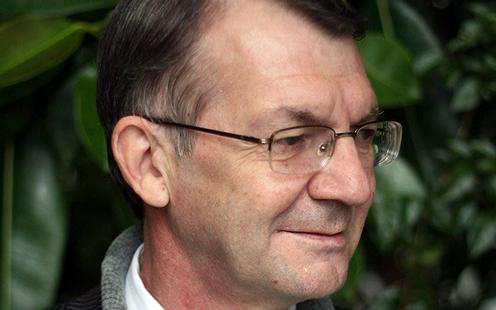 Rafiq Sayfulin . Photo from Fergana archives
The well-known political scientist and former director of the Institute for Strategic and Regional Studies, Rafiq Sayfulin, has been sentenced to 12 years in jail in Uzbekistan, Fergana's sources have stated. It was earlier reported that Sayfulin had been charged under article 157 (Treason) of the Uzbek criminal code, carrying a sentence of between ten and twenty years in prison. No further details of the trial or the sentence have been obtainable.
The court case against Sayfullin was first reported on in February 2020. He and several other members of the Uzbek State Security Service and the country's defence ministry were accused of treason. The political scientist was originally arrested back in July 2019. The name of one of the other defendants in the case has also emerged – that of the former head of a department of the Joint Staff of the Uzbek Armed Forces, Akbar Yarbabaev, whose arrest was confirmed by his brother. Uzbek media have reported that charges have been brought against a total of ten individuals. Nothing is yet known about any sentences handed down to other defendants. It has not even been possible for Fergana to ascertain that all of the accused have all featured in the same trial.
Representatives of the Uzbek government and its agencies have given no comment on the court case.
Sayfulin began his career in the KGB during the Soviet era. After Uzbekistan obtained independence, he worked in State Committee for Forecasting and Statistics under the country's Cabinet of Ministers. He later headed the Institute for Strategic and Regional Studies under the presidential office.
In March this year, the Military Court of Uzbekistan found former journalist with the defence ministry publication Vatanparvar (Patriot) Vladimir Kaloshin guilty of treason. He too was sentenced to 12 years in jail. He was also stripped of the rank of lieutenant colonel in the Uzbek army.
Prior to this, in January, former foreign ministry official Qodir Yusupov was sentenced to five years and six months in prison for treason. The charges against the former diplomat were based on his own confession that he had spied for the West. Yusupov made the confession in hospital after falling onto metro rails and sustaining a head injury. He had previously been diagnosed with a mental health disorder.
In December 2017, the renowned Oriental studies expert Andrey Kubatin was also sentenced for treason. The academic was accused of providing a foreign individual with materials on "Uzbekistan's geological reserves". Following the protests of colleagues and human rights advocates, the charges against him were later dropped.