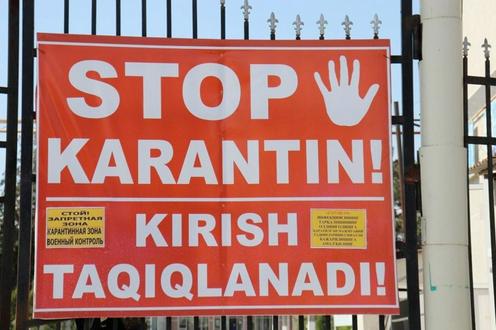 Image from Stv.uz
The revival of tourism in Uzbekistan will begin with allowing domestic travel between the country's "green" regions (areas deemed free of COVID-19 according to the colour scheme devised by the Uzbek government). Entrance to the country will then be permitted to tourists from countries where the epidemiological situation with regard to the coronavirus has stabilised. These steps were outlined by Uzbek president Shavkat Mirziyoyev yesterday following a briefing on a planned system of sanitary-epidemiological safety for tourists entitled "Uzbekistan. Safe travel guaranteed".
Mirziyoyev has ordered arrangements to be made to set up recreation centres using lightweight structures in mountainous regions of the country and at lakeside locations. A list of recreation centres will be published on the internet when the authorities decide where they will be placed.
The president also ordered a list to be drawn up of countries with a stable COVID-19 situation and a start made on gradually re-establishing tourism ties with them. To this end, branches involved in the tourism industry will need to learn to work under the conditions of a pandemic.
"For instance, how will hotels operate? How will we receive tourists at airports? How will we organise their movements around the country? The rules we decide upon must be simple and yet at the same time sufficient to prevent the spread of illness. We need to design a system that doesn't demand the closure and quarantining of a whole hotel on account of a single case of infection," Mirziyoyev said.
Uzbekistan has been closed to tourists since 16 March, with 1,500 tour operators and 1,200 hotels forced to suspend operations and more than 250,000 guides, artisans, restaurant workers, drivers and others left without work. Many entrepreneurs in the tourism and hotel industries have received temporary assistance in the form of tax breaks. Mirziyoyev has exempted them from land and property taxes until the end of this year.
Since it will take time for the industry to make up its losses, an exemption from paying tourism fees has also been extended until the end of the year. Losses made in 2020-2021 will be also be deductible from following years' profits taxes. Hotels will be provided with subsidies equivalent to 10% of the value of the services they provide and up to 10% of loans they contract for their working capital will also be subsidised.
The UN's World Tourism Organisation has predicted that 2020 could see an 80% reduction in international travel (equivalent to around one billion fewer tourists), with 100-120 million direct tourism jobs at risk and financial losses in the area of $1 trillion.